the Tooled Bodice with Sleeves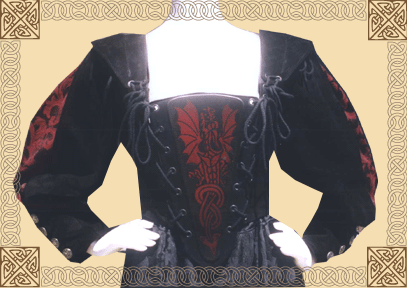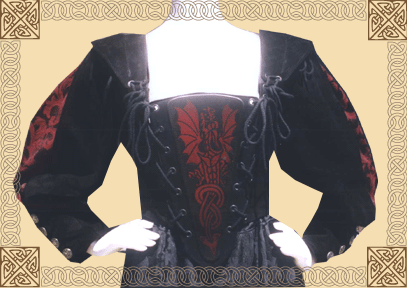 the Tooled Bodice with Sleeves
The Sleeved Celtic bodice has a tooled stomacher that laces into a suede bodice body.
The removable sleeves button at the wrist and the fabric inside matches the color of the tooling.
The design on the stomacher is available in your choice of red, green, and brown, and for an additional $20, blue.
This bodice can be ordered with any of the designs we offer in our tooled bodices.
with Celtic: $340.00
with Dragon Prince, Dragon Rampant, Dragon Flight, Rose, Phoenix, Paired Dragon, Greenman, Pirate, Celtic Heart, Celtic Rose, Unicorn, Dolphin Dance, Oak Queen: $360.00
with Dagger, Celtic Dolphin or Celtic Dragon: $390.00
To pair with this bodice, consider adding a chemise and skirt:
the Lady Jane Chemise
Generously sized (one size) cotton chemise with grosgrain ribbon casing. It has a drawstring top and elastic cuffs. The ribbon is available in a variety of colors to match or contrast the color of fabric you choose. (please see our colors page for the ribbon colors we have available)
Brocade Skirt
Lovely light-weight brocade skirt available in gold, navy, red, purple and black.
This a a full circle skirt with a generous drawstring waist.